The relational atlas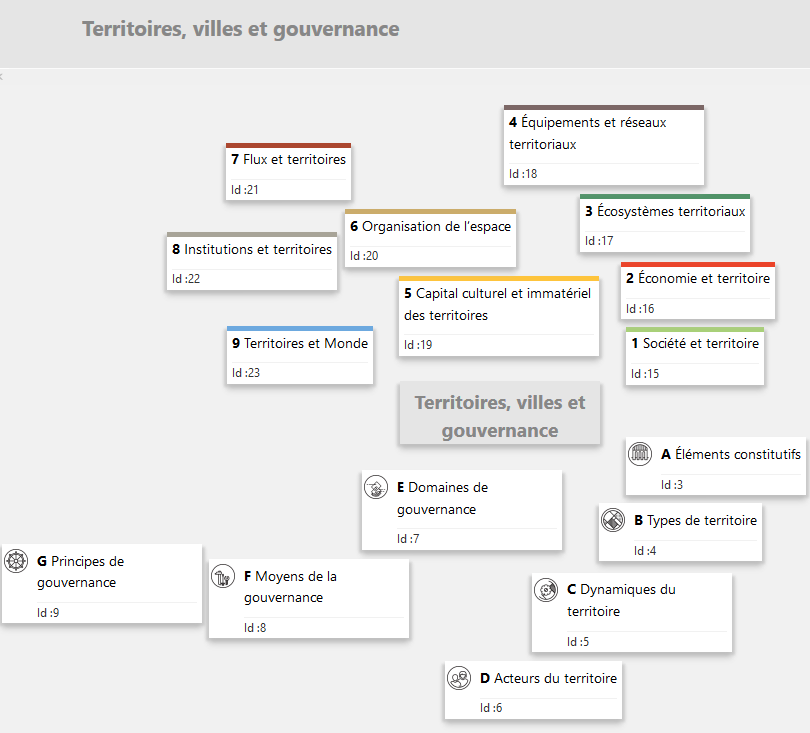 With the relational atlas we can describe 'what the information sheet talks about' by highlighting links between descriptors (key-words) and indicating these links with 'desmograms', a type of conceptual map. This differs from traditional key-word indexation in two ways: descriptors express a higher level of detail than theme-based keywords and they are located at the interface between other descriptors. Unlike a key-word, which may belong to a thematic family, descriptors are found in between thematic families.
So there are descriptors at many levels, from the most general (descriptors that reflect all characteristics of territories, cities and their governance) to the most detailed (descriptors characterising public spaces, mobility, the link between education and territory or the role of housing policies in the fight against social exclusion, for example) and, like a world atlas or city map, the relational atlas can be used first to identify major categories and then enter into a detailed view.
Why is this relational approach so important for CITEGO? Because of the very nature of the territory and its governance. Today local territories are in a position to play a fundamental role in the transition to sustainable societies because they are the very best place to manage relationships. But this potential is not necessarily used. Just because a territory has a competitive advantage in relationship management does not mean it uses that advantage. For example, the technical and administrative departments of many territorial authorities have a 'tree-like' structure, with each branch placed under the authority of an elected official anxious to conserve his or her power. Such an organisation tends to encourage a sectorisation of policies. The same may be true at a different level for other actors such as practitioners, researchers, students, etc., as well as for search tools in a database such as CITEGO's.
Thematic dossiersprovide an ideal means for comparing a number of experiences and thus learning lessons that can be of use even in a wider field. What CITEGO hopes to do is embrace the entire semantic field of territories, cities and governance and show the links amongst themes. So the descriptors used to describe the contents of the website and of each dossier must not be closed-off areas, bubbles such as "economy of territories", "mobility policy", "the role of territories in education", "local social policies", "implementing the right to housing", "positive energy neighbourhoods", "shared management of public services", etc. On the contrary, they must lead us to the realization that dossiers which at first appear very different in fact address inter-related subjects.
Thus the CITEGO relational atlas has three complementary uses. It is first of all an indexing tool that encourages information sheet writers to be aware of the fact that their subject is not just one specific theme—the theme that is the basis of the dossier for example—but also sheds light on other aspects of territories and their governance. Secondly, it is a browsing tool for the website: it facilitates the search for information on the subject being treated, allowing users to access more detailed or, on the contrary, more general information while at the same time discovering how the theme is related to territorial governance as a whole. Finally, and independently of the actual CITEGO dossiers, the atlas is a knowledge tool that helps users achieve a more complete and 'systemic' vision of the territory and its complexity.
The atlas is constructed according to a systematic methodology that uses the successive crossing of descriptors to enable an increasingly 'detailed' choice of descriptors such as 'risk of accidents in multi-modal public spaces' or 'the roleofterritories in helping young people learn about complexity'. At each stage, the user can see which crossings of general descriptors led to this stage, and which even more detailed descriptors result from it. As with a traditional atlas, the user can move from one map to another of smaller or larger scale.
After much trial and error, we have built the atlas on a basic matrix (lines and columns) that have the same role as latitude and longitude on a geographical map. You may have noticed that on city maps each 'square' is designated by its alpha-numerical coordinates: 'G15' or 'D4', for example. What we call 'level 1descriptors' are located in these initial squares. All other descriptors are constructed by combining these level 1 descriptors, like building blocks.
A relational atlas must be constructed in cooperation with others , and the process is similar to the collaborative approaches used to construct geographical atlases like Open street map, which many local authorities use to establish their geographical references. General maps are established once and for all. Local maps, however, are established by volunteers, as the need for such maps becomes apparent. So the CITEGO team has set up the basic 'squares' and created the level 1 descriptors, along with 2000 level 2 descriptors. (Level 2 descriptors are the result of a cross between at least two level 1 descriptors, level 3 descriptors a cross between level 1 and/or 2 descriptors, etc.) As CITEGO is enriched with new thematic dossiers or as experts in a domain join the CITEGO family, we will be able to develop with them a 'corresponding local map'. The major advantage of this system is that each local map will not be separate and isolated, but linked to the rest of the atlas.
The basic matrix is composed of 9 columns and 7 lines:
The nine columns describe what a territory is made of:
Society and territory
Economy and territory
Territorial ecosystems
Infrastructures and networks
Cultural capital of territories
Spatial organisation
Flows
Institutions
Relationships between the territory and the world
The seven lines describe the various angles of approach to territories and territorial governance:
a. Constituent parts of territories
b. Types of territories
c. Territorial dynamics
d. Territorial actors
e. Domains of governance
f. Means of governance
g. Principles of governance
The relational atlas is not available in English yet; its translation is part of our 2018 projects. Please contact us if you want to help us.