Tramayes, a positive-energy small town of the future
May 2021
Agence nationale de la cohésion des territoires (ANCT)
The creation of a heating network, a positive-energy building for the school, switching off the lights at night…: the mayor's initiatives have enabled this Small Town of Tomorrow to become a pioneer in the field of ecology. The project aims to become the first community to produce more renewable energy than it consumes.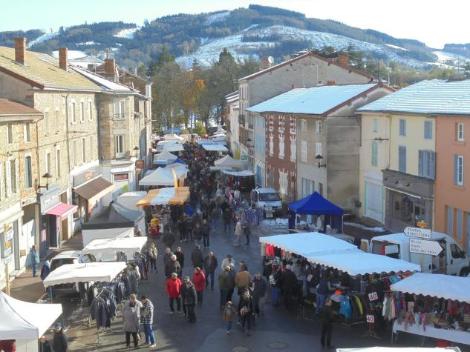 The project
Tramayes has a population of 1,060 and a surface area of 18.6 km2. It belongs to the Communauté de communes Saint-Cyr Mère Boitier, located between the Charolais and Mâconnais regions. It is a founder member (2011) of the National Network of Positive Energy Territories.
Often cited as a pioneering town for its environmental initiatives, Tramayes will soon be the first positive energy municipality, producing more renewable energy than it consumes in its operations. It hopes to achieve this within the next two or three years.
For its electricity production, the town has opted for a heating network for its municipal buildings. A wood-fired boiler has replaced the oil-fired ones. The network heats all the municipal buildings and the hospital. An extension has even been created to supply several private homes. The municipality is also banking on solar energy to produce electricity. It installs photovoltaic panels every time it renovates a building.
Major projects have been undertaken to reduce energy consumption. For example, a positive-energy school building has replaced the old school.
Thanks to the renovation work, the municipality's electricity consumption has fallen from 200,000 to 37,000 KwH. Public lighting consumption has been cut by a factor of 4 in ten years (lights switched off between 11pm and 6am; bulbs replaced).
The next objective is to move from a positive-energy municipality to a positive-energy territory, by involving local residents in the process. To achieve this, the municipality is counting on the Small Towns of Tomorrow programme.
Objectives
Enable the municipality to produce more energy than it consumes

Encourage residents to commit to the ecological transition

Capitalise on ecology to enhance the attractiveness of the area
Specific features
Provide the school with a well-insulated building that is just as pleasant in winter as it is in summer

Enabling the hospital to benefit from the heating network. It has reduced its energy bill from €73,000 to €61,000 per year.

Developing a « zero phyto » policy at the same time
Sources
To go further