Towards a more sustainable food supply in collective catering : food waste
June 2021
Agence pour l'Environnement et la Maîtrise de l'Energie (ADEME)
Sustainable catering is possible! A source of pleasure and a response to vital needs, food is at the heart of environmental, health and economic issues. Present on a daily basis throughout the lives of citizens, collective catering is ready to take up the challenge: to offer as many people as possible healthy, quality meals that limit environmental impact and pressure on resources, and that are accessible while allowing fair remuneration for the actors who have contributed to their preparation.
The guide published by ADEME has been designed to provide concrete elements to collective catering actors on the implementation of sustainable food in their structures, particularly in the context of the implementation of the objectives of the EGAlim Law.
National objective: - 50% waste in collective catering by 2025
To download : ademe-guide-bonnes-pratiques-egalim-2021.pdf (19 MiB)
Priority to the fight against food waste
There is no longer any need to convince people that the fight against food waste in the catering industry has become essential. It is also an essential step towards a sustainable food policy.
KEY FIGURES
In France, food waste represents 10 million tonnes lost throughout the food chain. 8% of this is attributed to collective catering.
In terms of each plate, the waste seems very small (120 g on average), but in terms of the entire establishment, the figures take on a different dimension: for a restaurant serving 500 guests on average 200 days a year, food waste represents between 15 and 20 tonnes per year, or in terms of budget between 30,000 and 40,000 euros per year of discarded products.
WHERE DO I STAND?
The key to any anti-waste action is the initial diagnosis. Whether you are a beginner or well versed in weighing, it is essential to carry out regular weighing campaigns to monitor the evolution of food waste.
The more accurate the weighing, the more appropriate and effective the actions implemented will be. But weighing is not something that can be improvised.
Which foods should be weighed?

For how long?

What equipment do you need?

How do you convert the results into euros?
THE TOOLS
To help you carry out your weighing and to enable you to enter your data, ADEME provides a freely accessible spreadsheet. It allows you to :
Identify the most wasted food

Visualise the economic impact

Have an estimate of the GHG impact Unavoidable waste

Banana peel, melon rind, egg shells, bones… Potentially avoidable waste Potato peels, carrot tops, cheese rinds Avoidable, consumable waste

Leftover dishes, bread = food waste
THE HIDDEN COSTS OF FOOD WASTE
Financial losses are not limited to the purchase price of uneaten food. 60% are in fact attributed to indirect but very real costs!
Energy for cooking, preservation…

Human resources for preparation, service, cleaning, etc.

Waste management
COMPARE YOURSELF
It is essential to compare yourself with an equivalent establishment:
Sector (school, health, business)

Management method (direct or contracted)

Method of delivery (on-site cooking or delivery from a central kitchen)
FROM DIAGNOSIS TO ACTION PLAN
Figures alone are only one indicator among many. It is important to look closely at all the possible causes:

Based on the results of the diagnosis, each facility must identify the actions that will enable it to effectively reduce its waste. It is by involving all your teams (kitchen, service, management, guests) that the actions can be proposed and tested. It will thus be possible to act at 3 levels:

GOOD PRACTICES, TOWARDS A VIRTUOUS LOOP :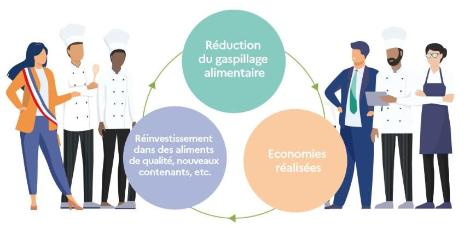 Sources
To go further