Seine-Saint-Denis (93): repairing families
Le Magazine Du Centre National De La Fonction Publique Territoriale – N° 44 – Juin 2021
June 2021
Centre National de la Fonction Publique Territoriale (CNFPT)
The Day Care and Parenting Support Services (SAJ) offer a collective reception to about thirty families, including parents and children aged 0 to 6 years, received each week for half a day. The parents meet around collective or individual activities, in the SAJ premises or outside, (parents' café, playful and/or educational activities, well-being workshops, family stays, meals, festive times, individual or family interviews, etc.). With the support of multidisciplinary professional teams and other committed parents, this complementarity makes it possible to adapt the support as finely as possible to the realities of each family received, and to help each of them to find a relational stability favourable to the good development of the children.
To download : plaquette_saj.pdf (5.9 MiB), service_public_territorial_juin_2021_numero_44.pdf (980 KiB)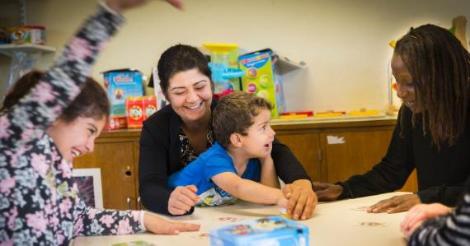 In 2001, the Seine-Saint-Denis departmental council innovated with a unique structure: a day care and parenting support service (SAJ). Its principle? Families suffering from parenting problems commit to spending half a day a week with other families, in the presence of a multidisciplinary team made up of a specialised educator, a young children's educator, a counsellor, a childcare worker, a social worker, a social and family economics counsellor and a psychologist. The reception is done with collective and/or individual times, around playful or educational activities: festive times, meals, workshops, cultural outings or in the parks. A laundry room is available to families, particularly for those staying in hotels. A kitchen for preparing meals is also available to families who wish to do so.
With the help of professionals, families can learn from others, overcome family difficulties, reconnect with the territory and its heritage, cultural and social resources. « Whenever necessary, we direct them to social actors, so that they can create a network from which they can then draw, » notes Rachid Taleb, head of the SAJ in La Courneuve. The parents never come on their own initiative. Each time, a childcare professional sends them, sometimes within the framework of child welfare and the prevention of a placement, but not always. « Everything is very transparent: on the first day, I explain to them why they have been referred by the professional and what work we can do together. If the parents agree to come to the SAJ, we make a moral commitment. An interpreter can be present when a family of foreign origin does not understand the French language in all its subtleties. « It's important. They have taken the first step, we must also go towards them.
Sources
To go further