German-Luxembourg Schengen High School in Perl (Germany - Luxembourg)
2011
Cross-border cooperation is a partnership between private or public players, separated by a State border, whose actions have repercussions at regional and local level on either side of the border. Within the European area, 360° mobility across the border, the projects and policies that accompany this mobility in territories close to the border, and the progressive cross-border integration that this cooperation builds and gives rise to cross-border territories, characterise different experiences. To illustrate the results of more than 20 years of cooperation within the Mission Opérationnelle Transfrontalière (MOT), 20 unique experiments conducted by MOT members for the benefit of the inhabitants of cross-border territories have been highlighted in various fields: here we look at education with the example of the German-Luxembourg Schengen secondary school in Perl (Germany-Luxembourg).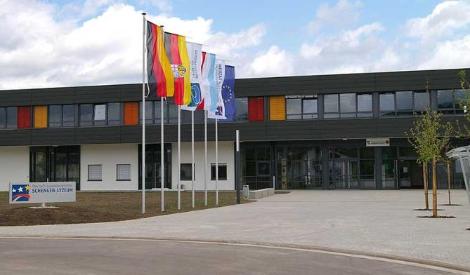 Cross-border cooperation in education and training is organised differently depending on the level of education. During the nursery and primary cycles, it is often possible for pupils to learn the neighbouring language or the language common to the cross-border community in the case of regional languages. There are also bilingual schools offering school exchanges and cultural encounters. At secondary level, some schools offer so-called « European » streams or bilingual courses (AbiBac in the Franco-German context). There are also examples of completely bi-national schools, such as the Lycée de Schengen in Perl, on the German-Luxembourg border.
A bi-national school, the German-Luxembourg Schengen secondary school in Perl (Germany) is a cross-border school designed for the joint education of pupils from Germany and Luxembourg (agreement between the Saarland and the Grand Duchy of Luxembourg). It offers pupils training and qualifications enabling them to continue their studies or enter the job market on both sides of the border, by combining elements of both school systems through innovative teaching methods.
The foundation stone for the lycée building was laid on 12 January 2009. Opened in 2007, it currently has 835 pupils from Luxembourg and Germany (from Saarland and Rhineland-Palatinate), as well as 34 from France (including Lorraine).
The course language is German for most subjects, with some subjects taught in French. Aimed at developing solid language, professional and intercultural skills, it prepares pupils for the German and Luxembourg labour markets.
The school faces particular pedagogical challenges due to the heterogeneity of its pupils of different nationalities, which means that it has to apply both integration and differentiation principles.
Aims of the project
To offer pupils a multilingual education in line with European standards, enabling them to continue their education on either side of the border thanks to the recognition of diplomas in both countries. Languages are a fundamental part of the training. Completion of final works: spring 2011
Partners
Luxembourg Ministry of Education and Vocational Training

Landkreis Merzig-Wadern (Germany)

Saarland Ministry of Education, Culture and Science
To go further
[a(http://www.espaces-transfrontaliers.org/) www.espaces-transfrontalie