Tomorrow's my territory 03 Producing clean energy for my territory
Power generation
November 2019
Agence pour l'Environnement et la Maîtrise de l'Energie (ADEME)
The 20 factsheets in the collection « demain MON TERRITOIRE » have been designed to give candidates and elected officials practical keys to take action, to open up the field of possibilities based on the experiences of other elected officials, from small towns to conurbations, large urban areas or sparsely populated areas. In the four corners of France, both in metropolitan France and in the French Overseas Territories, many of them are taking action, together with the players in their territories, to prepare for the future by taking action to mitigate climate change and adapt to its effects. With its knowledge and presence throughout the country, ADEME supports them with its tools, activities and financial aid.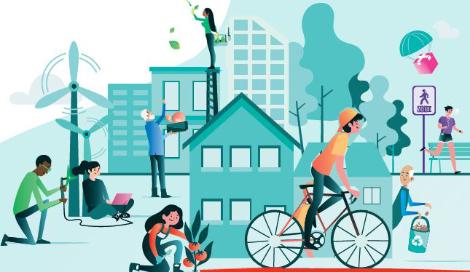 Why is it important for my territory to support alternatives to fossil fuels?
Green energy is one of the pillars in the fight against global warming. Since the energy transition law of 2015, communities have been encouraged to produce renewable energy from sun, wind, biomass and geothermal energy. To heat communal buildings via a district heating network. Or to supply electricity to public facilities. These projects ensure positive spin-offs: energy at a low and controlled cost, valorisation of local natural resources and a source of income for the territory thanks to the resale of energy. These projects also make it possible to develop economic activity and create jobs. They enhance the attractiveness of the region by protecting the environment.
How do you do it?
The best energy is the energy we don't consume: start with a diagnosis of the territory's consumption to identify savings opportunities. For that which cannot be reduced, we are considering switching to renewable energies.

Public buildings, sports grounds, leisure centres, etc. are equipped with installations powered by renewable energies for the supply of hot water, heating or electricity. We choose according to the type of energy and local constraints: solar, wood, geothermal… and we ask ourselves the question of renewable energies each time we renew our equipment!

Roofs, urban wastelands, bus shelters, etc. are valorised by installing solar panels that allow the territory to produce its own energy.

We're reviewing the territory's energy supply contracts. Clauses are being introduced in the contracts to give preference to green bids. For electricity, preference is given to those that offer guarantees to purchase electricity directly from renewable energy producers.

A framework favourable to the emergence of projects is created: in the territorial climate-air-energy plan, studies are launched to gauge the potential of renewable energies in the territory and future needs (neighbourhood, public facilities, etc.), obligations to use local green energy in new buildings are included, and avenues for public-private partnerships are explored.

Wind farm, solar farm, biomass boiler room… we are taking advantage of road works to consider a heating network. Supported by citizen projects, where residents who volunteer to become involved in investment and management alongside the community, these installations are easier to carry out because they are more readily accepted.
Sources