Tomorrow my territory 10 Vegetalising our neighbourhoods
revegetation
November 2019
Agence pour l'Environnement et la Maîtrise de l'Energie (ADEME)
The 20 factsheets in the collection « demain MON TERRITOIRE » have been designed to give candidates and elected officials practical keys to take action, to open up the field of possibilities based on the experiences of other elected officials, from small towns to conurbations, large urban areas or sparsely populated areas. In the four corners of France, both in metropolitan France and in the French Overseas Territories, many of them are taking action, together with the players in their territories, to prepare for the future by taking action to mitigate climate change and adapt to its effects. With its knowledge and presence throughout the country, ADEME supports them with its tools, activities and financial aid.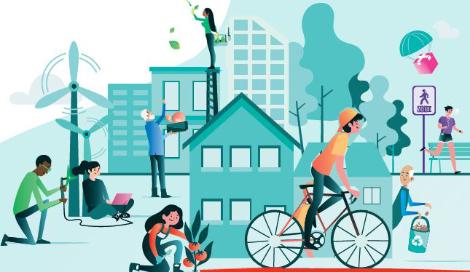 Why is it important to give more space to nature in the city?
To vegetalise our neighbourhoods Oxygenate, provide well-being and freshness, preserve biodiversity and air quality, be a source of local food… These actions are as many small green lungs for our neighbourhoods, beneficial for the environment, the quality of life, the health of the inhabitants and the attractiveness of the city.
How do you do it?
Green spaces are recreated, the inhabitants are involved in the choice of projects and the management of the spaces.

Roofs, walls, sidewalks, squares, schoolyards… Plant!

We drink the streets, favouring local and non-allergenic essences.

Nature's surface area is being enlarged, with shared gardens, bodies of water, mats of succulents, plant meadows or vegetable gardens on the roofs of buildings, climbing or edible plants on the facades of buildings.

Green spaces are maintained with more environmentally friendly methods to preserve biodiversity - late mowing, gentle pruning of trees, recovery of rainwater for watering, etc.

We are committed to the « Healthy Earth » approach by moving to « Zero Phyto », i.e. the total elimination of pesticides, fungicides and chemical fertilizers in cemeteries, sports fields, green spaces, parks, etc.

Citizens are given a « permit to plant » the public space, to sow hollyhocks at the foot of trees, to fill pots scattered on the sidewalks with aromatic herbs…

The progression of concrete is stopped, by including the principle of stopping the artificialization of natural spaces in the Local Urban Plan and/or the Local Inter-municipal Urban Plan.

Hives are installed, with bees participating in the pollination of 80% of flowering plants.
Sources