Eating organic food here and now
Food hubs to increase the share of organic and local food in the catering industry
January 2019
Fondation Daniel et Nina Carasso (FDNC)
Towards a Europe of territorial food systems?
This study is extracted from the analysis of twenty-two French and Spanish projects related to new food models, all highlighting different challenges.
In Spain, governance is being built, while French food systems are looking for solutions to change scale. But in both countries, accessibility remains the weak link. Feedback on the « Eating organic food here and now » (MBIM) project.
Created in 2010, the Manger bio ici et maintenant (MBIM) network brings together, at the national level, distribution platforms for organic and local products. It supplies school canteens, companies and restaurants.
Each platform controls its own catalogue, between local products, those of the national MBIM network and those of Biocoop Restauration. Fourteen of them use the Local Basket software to manage their orders: customers, suppliers, products, purchase prices, sales prices… everything is entered.
MBIM's economic model is based on the membership of its partners, Biocoop's payouts and training services. An agreement with the Agence Bio, until 2020, as well as calls for projects complete the network's financial resources.
MBIM was born out of a desire to separate the development of agriculture, carried out by organic farming groups, from the logistical and economic tools for supplying organic products.
RestoBio65, at the service of collective catering in the Hautes-Pyrénées region
The Hautes-Pyrénées have been interested in organic farming since 1998. Wondering about the future of small and medium-sized farms, production methods and labelling, a group of producers created the GAB 65 (Groupement d'agriculture biologique).
Claiming a political approach to production, they have initiated a more global reflection on food. Very quickly, restaurants were identified as an essential place to anchor territorial change. RestoBio 65 was born to serve collective catering in the Hautes-Pyrénées and to take the issue of food out of the market. The platform Manger bio ici et maintenant (Eating organic here and now) allows the Scic to expand by increasing the volumes marketed.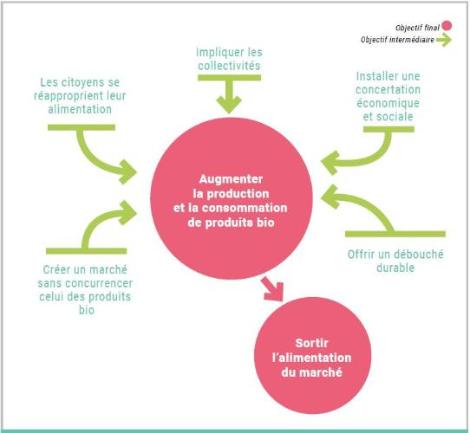 The objectives pursued by RestoBio65, a member of the Manger bio ici et maintenant network, help local platforms to become more professional. Training members, seeking funding, representation or advice, the network provides the means to increase the production and consumption of organic products in France.
A strategic partnership to grow
By forging a partnership with Biocoop Restauration, the RestoBio65 platform, a member of the Manger bio ici et maintenant network, is consolidating its position and aura. This collaboration represents a major asset in responding to public contracts: if RestoBio65 cannot meet the order, due to climatic hazards or other reasons, Biocoop Restauration takes over. Local authorities are reassured and encouraged to change their practices. Their desire to favour organic products and their obligation to ensure and plan volumes become compatible. This alliance also structures the local offer: Biocoop Restauration announces the expected volumes, market gardeners propose products, floor prices and negotiate. They put a weekly spreadsheet online, with one tab per grower, common prices, available products and delivery days.
Sources
To go further