MOOC - Territorial Governance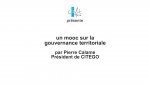 Territorial governance is at the crossroads of two changes, both of which are decisive for reconciling citizens with politics, for responding to the demands of an increasingly complex world, and for leading the transition towards sustainable societies.
The first of these changes is that of governance. The second is that of territories.
Training in territorial governance cannot, therefore, be limited to promoting management techniques inspired by the private sector. It must be based on an understanding of the two changes and their consequences at the level of local and regional authorities, and lead to operational approaches and guides for action.
This MOOC, which was broadcast three times on the FUN platform, brought together more than 11,000 learners from 60 countries.
(Sessions are only available in French)
Session 1: You said governance ?
Session 2: You said territory?
Session 3: The changing face of governance
Session 4: The territory, unique actor of the transition from economy to oeconomy
Session 5: The tools for knowledge and management of territorial ecosystems
Session 6: The Art of Governance Applied to Territorial Governance
Session 7: Territorial management of relations between actors
Session 8: The management of relations between levels of governance and the principle of active subsidiarity
Session 9: From public service to governance regimes for different goods and services
Session 10: Leading Strategies for Territorial Change
Session 11: Territories and globalization: The challenge of international networks of cities and territories
Session 12: Overview of territorial governance: Learning together to manage and transform a complex system
Bonus Session on Latin America: International Focus: Governance in Latin America
All of these sessions are available ici. This online training is complemented with resource sheets and case studies.